India is blessed with a vibrant and vivacious artistic heritage. From Madhubani to Pichwai, each art form has its own unique history and splendid techniques. Some of them sprang up from city walls while others originated from temples. Not only are they popular as paintings, some of these art forms have even been scaled down to decorative items like bed linen and cutlery without losing even an iota of their sheen. Here are the seven most popular and amazing folk art forms: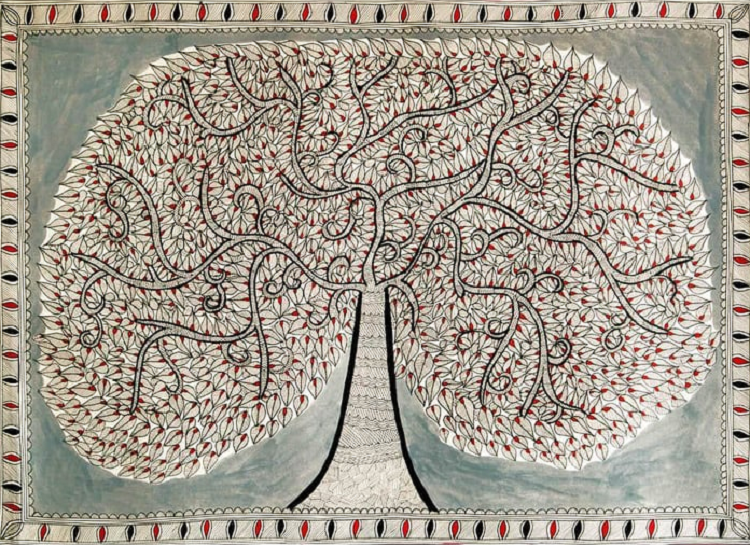 1. Madhubani Painting
This 2500-year-old art form is unique in its treatment of modern issues. This makes Madhubani painting a popular and relevant genre till date. The origins of Madhubani style can be traced back to Raja Janak's reign. He instructed the residents of Mithila to decorate the city walls in celebration of his daughter, Sita's wedding to Lord Rama, the Prince of Ayodhya. Also known as Mithila painting, Madhubani artworks depict social issues and religious tales with equal elegance. These paintings were also used to adorn tree trunks in Bihar to prevent them from being axed down, thus preventing deforestation at a large scale. Madhubani most famous painting uses auspicious motifs and imagery that make this art form perfect for decking up your home and attracting positive energy.
2. Pichwai Painting 
Pichwai art is said to have originated in Nathdwara temple, Rajasthan. Traditionally, Pichwai paintings were used to decorate the wall behind the deities. That is why some of the most famous Pichwai artworks are conceived in Rajasthan. Most of Pichwai famous paintings are dedicated to the deity of Srinathji, an avatar of Lord Krishna as a 7-year-old infant. All paintings created in Pichwai style make use of vibrant and auspicious motifs like cows, peacocks, lotus and exuberant scenes from Rasleela. There are certain Pichwai paintings particular to seasons and certain special occasions which make Pichwai art even more interesting. A Pichwai portrait is another piece of art one must admire in this genre. Each of the above mentioned motifs and symbols have a special significance, making Pichwai painting a great addition to your home decor.
3. Rajasthani Painting
Commonly referred to as the Rajasthani miniature painting, this genre of art has found great popularity due to its intricacy, vibrant hues colours and immaculate brushwork. Rajasthani painting displays great variety in the themes it portrays, ranging from religious narratives and political scenes to mesmerizing landscapes. Rajasthani art also depicted scenes from popular literature gorgeously. Intricate gold detailing and bright colours were used in Rajasthani Portrait painting and Rajasthani miniature painting for a touch of royalty. These small details make Rajasthani traditional painting one of the most opulent and sought-after art pieces.
4. Warli Painting
Derived from the term 'warla' which means 'field' or 'a piece of land', Warli paintings were traditionally made on mud walls that were brown in colour. This art form is believed to have been pioneered by the Warli tribe of Maharashtra. Its popularity grew phenomenally around the 1970s, when they started using paper as a canvas, thus garnering more attention. Some of the most well-known Warli paintings portray different aspects of life by making use of geometric shapes like triangles, circles and squares. Triangles are drawn to denote animals, trees, mountains and humans. Further, circles denote the moon and sun. Similar to Madhubani painting, Warli painting also originated as one of the earliest forms of graffiti and with its growing popularity began to adorn the walls of homes and offices.
5. Kalighat Painting 
Kalighat Patachitra originated as a condensed form of Pattachitra paintings. A Kalighat painting was usually sold as a souvenir to British officers and tourists visiting India. They would take these paintings back home and either decorate their homes with them or give them out as gifts. Kalighat art was born in the Kalighat area of Bengal—hence the name of this beautiful genre. A Kalighat painting was traditionally created on mill-made paper. It differed from Pattachitra by having lesser characters and more empty spaces. Instead of drawing out elaborate stories, Kalighat paintings only had one or two characters that didn't crowd the canvas too much. Kalighat Patachitra painting often portrayed Indian gods and goddesses. These figurines and characters were usually inspired by folktales and religious epics.
6. Pattachitra Painting
Today, Raghurajpur village in Orissa is the epicentre of Pattachitra art. This heritage village survives on selling Pattachitra paintingand knick-knacks. These families have been creating Patta painting for decades and it's visible in their eye for detail and high quality of products. Pattachitra art paintings were traditionally used in the Jagannath temple to replace the deities for a 15-day period, referred to as Anasara. Pattachitra art has now become an inseparable entity of Indian folk art. There is no such thing as easy Pattachitra paintings and artists often spend months in creating one piece, following certain rules and sitting in a particular posture. Pattachitra art usually draws inspiration from Hindu mythological tales, especially from the life of Lord Jagannath.
7. Mughal Painting
During Humayun's reign, two Persian artists were invited to India and that's when the era of Mughal art began. Mughal miniature paintings soon became popular amongst the emperors and courtiers. Many members of the nobility often commissioned a Mughal painting or even became the muse for an artist. A Mughal miniature painting was usually secular and either portrayed scenes from the emperor's court or included a depiction of landscapes and festivals. All of them had a touch of royalty as the subjects were generally borrowed from royal Mughal courts. Mughal art flourished greatly under these emperors who made it a centerpiece of their reign, physically and socially.
8. Gond Painting
This art form was first developed by the Gond tribe of Madhya Pradesh. The term 'Gond' is derived from the word 'Kond' which refers to green mountains. This is a nod to the fact that people from this community generally inhabited the green mountains of Madhya Pradesh. The Gond tribe is India's largest Adivasi community. Though they are generally found in Madhya Pradesh, you'll also find them in certain areas of Andhra Pradesh, Orissa and Chattisgarh. Famous Gond paintings are made by using repetitive patterns like dots, lines, fish scales and geometrical shapes. The dots, especially, create a sense of movement in the painting. This makes a Gond painting even more unique and fascinating. If you look at any Gond painting, you'll find common symbols derived from myths, legends, flora and fauna.
9. Phad Painting
A Phad painting may take a lot of time to be completed but the end result is immensely gratifying. In fact, the process of making the canvas is as interesting as creating the painting itself. A coarse cotton cloth is soaked overnight with the aim to strengthen the threads and make a sturdy canvas for the Phad painting. This strengthening is done by thickening it with starch and drying the soaked canvas under the sun. it is then rubbed vigorously with a moonstone. This final step makes it smooth, thus, preparing it to be used as a canvas.  Phad paintings were used to narrate religious tales and hence, the eyes of the gods and goddesses were painted right at the end. That's when the painting was deemed ready to be worshipped as it was believed to have come alive.