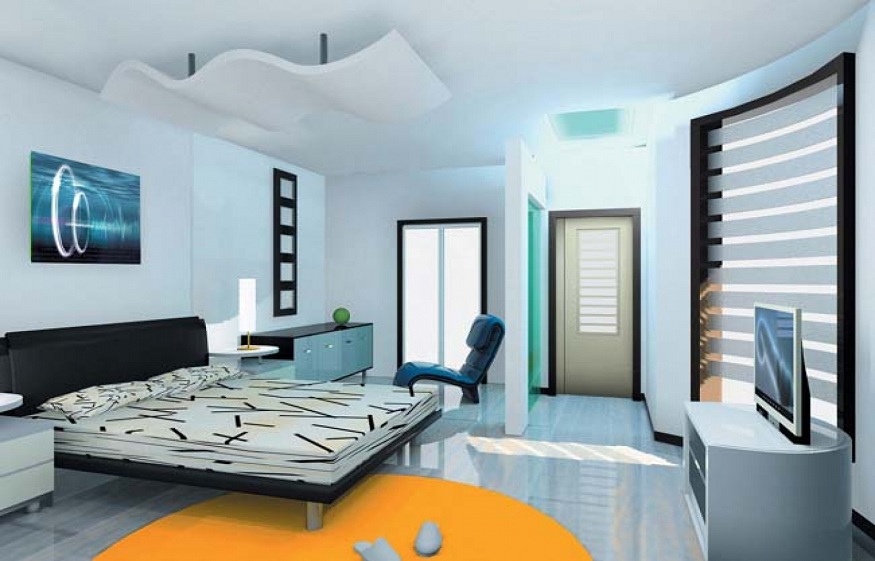 You must ensure that your bedroom is a relaxing spot where you can just be yourself. Hence, you have to incorporate all the right elements. Besides the decor items, furniture pieces, and lighting fixtures, you must pay heed to the colours you use in the room. Make sure the wall paint colours you choose make the room appear larger and more open and not congested and cluttered. If you do not know which colours you must use for painting the bedroom walls, mentioned below are a few that will look great in a small bedroom design:
01 of 08 Dark blue
Use dark blue for the bedroom walls if you want to make a statement. It can have a huge impact on a small room's design. Combine the bright tone with lighter coloured furnishings to create more visual interest. It will appear very bold and keep the eyes distracted from its small size.
02 of 08 Earthly ochre
Create a very calm environment using earthly ochre in your small bedroom design. It is a warm and deep colour that can make the room appear very relaxing. During the day when sunlight enters indoors, the rooms appear larger and more open. You can use this colour to create a very welcoming ambiance that is pleasing to the eyes.
03 of 08 Off-white
Off-white is a great option very commonly used by experts for small bedroom designs. One of the biggest reasons behind its popularity is that the room appears very spacious and open when you paint the walls of your bedroom. Also, it is easier to work with off-white because it can be used in all types of home decor ideas. To add some contrast and visual interest, add contrasting coloured furnishing and decor items. Adding potted plants to the setup is a great option as well.
04 of 08 Clean white
Give the small bedroom a very clean look by painting the walls clean white. You can use this colour to create a sense of calm in the room. It adds a very soft and cosy feel to the bedroom design. Many experts suggest clean white walls with wooden flooring and bright decor for a very luxurious and elegant look. If the room appears boring, you can add a few potted plants as well.
05 of 08 Dark grey
Opt for a contemporary and minimalistic look by painting the bedroom walls dark grey. Dark grey is a very versatile colour and can be paired with casual or fancy furnishings to give it a crisp appearance. This is why it is often preferred over other colours like traditional white or beige. By painting the walls dark grey, you can give your bedroom a very elegant feel.
06 of 08 Pale blue
Pale blue is most commonly used in small rooms to create the illusion of a larger space. This makes the room appear brighter and more open. Allow plenty of natural light to enter indoors during the day for a very appealing decor. If you want to set a very calming tone in the bedroom, you can pair pale blue with other light colours like pale pink or white. This colour combination can be used in large rooms as well.
07 of 08 Sea green
Sea green is very popularly used in bedroom designs that feature minimalistic decor. Experts suggest creating an earthy look by pairing it with wooden furniture and decor. This will create a very soothing and peaceful atmosphere in the bedroom. As a result, you can relax and sleep better after a long and tiring day at work. Adding earthy tones and sea green walls is one of the best bedroom decor ideas.
08 of 08 Light green
Light green is a very common colour that can be paired with various colours to create a more open bedroom design. It is a really vibrant colour and can add a contemporary touch to any space. By using this colour, you can make your bedroom appear more welcoming and inviting. You can pair this bedroom decor idea with white and create a very appealing living room design as well.