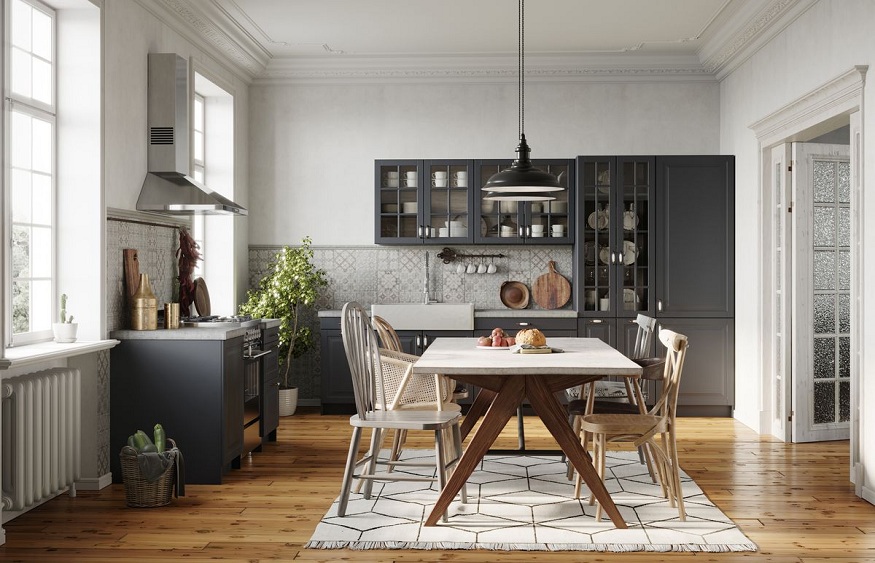 Flooring is one such part of a home that interacts with humans the most. Such is the reason that people tend to pay a lot of attention to it. It works as a status symbol all across India and the world. But when it comes to getting flooring done, most of us stay unaware of all the different options available. Any of those Building architects near me or you can commune to us the many options. But we do not go to architects every now and then. This is why we lay down here the many different flooring options for you to consider. But let's look at what flooring is and in what sorts it comes!
Flooring options that building architects suggest.
Flooring is all about look and feel. This is why it comes in many different types to serve the different demands. Usually, flooring gets divided into two parts: Hard Flooring and Soft Flooring. Thus, we put before you floorings in this way.
Hard Flooring:
The very name suggests that they are hard in touch and texture. It is in high demand across India and people prefer it because it provides permanency and lower maintenance costs. Here is a list of all the options available and why should you opt for any one of these:
Marble Flooring:
It is a sort of stone that gets cut, shaped, and transported for people to use on floors. It gives a glossy look after getting polished. This is why many people in India use it as a sort of status symbol. But there is one thing to note about it — It is porous in nature. Porous means that it has a tendency to absorb things that fall onto it. For sure it won't absorb you if you fall, but surely that liquid. For this same reason, people avoid it in areas that are prone to spillage. Here are few tips from building architects:
Try not using it in the kitchen because of the chances of spillage.
Do not use in the bathroom because it can contain bacteria for a longer period.
Never ever in hospitals for it may trap those deadly stuffs.
The cost varies a lot from INR 90 to INR 900. It is very durable and can run for around 20-25 years. Another benefit of it is that you can re-polish them once you feel it to be getting dull. Know that its rate also increases according to the size you opt for — larger size costing more than the smaller size.
Granite Flooring:
It is a product of fire. No. Really. It gets made from volcanic rocks and reaches you after getting processed. It is very durable and can sustain heavy-duty works. This is why they are used in areas where footfalls are more. Another benefit is that it is not porous in nature. For this same reason, you can use it at places where you avoid marble ones. For example, you can use it on the slab of the kitchen.
If you search for any building architects near me on Google, you might get a lot of information about this type of flooring.
Vitrified Flooring:
A work of human and technology indeed. This is a man-made product that gets made from silica and clay. These are hard tiles and are less porous in nature. Here are the many benefits of vitrified tiles that might lure you:
They come in different sizes.
Durable enough.
They come in different textures and patterns, which provides the flexibility of choice.
If you are looking for building architects, then don't forget to discuss this thing with them.
Ceramic Tiles:
These tiles are either ceramic or porcelain. The good thing about them is that they too come in different sizes and patterns. It might be a reason enough to opt for these. However, know that they are prone to breakage if not provided enough support from beneath.
Stones:
There are many stones available around. The most famous among all is the Kota stone. It comes from Rajasthan. The good thing about stones is that they are very affordable and you can use them. However, due to their rough texture, you can never use them inside. For this very same reason, people use them for pathways and gardens.
Soft Flooring:
They usually come over hard flooring. The most common examples of this type are carpets, wooden flooring, etc. They take lesser time to install as compared to hard flooring.
Hardwood Flooring:
This is one piece of wood cut into planks for you. This type of flooring resonates elegance. The best thing about them is that they last long enough due to the hardwood used. The most common hardwoods used are Maple, Oak, Hickory, Walnut, etc. But there are things that you must take care of.
Hardwood changes shape depending upon the level of humidity in the room. This is why you would never want to use it in areas prone to spillage and having high humidity. It will make the wood rot much before its time. Look for building architects near me and you might get more information about it from there.
Another thing to vary of is the basement. Basements are most prone to rainwater collection. This is why almost everyone suggests against using hardwood in the basements.
Engineered Hardwood:
This is an engineered product that can sustain the whips of humidity and moisture much better than natural hardwood. It is a piece of two sheets: a thin surface sheet called veneer and a thick sheet beneath it made of plywood. There is a myth that many people believe in, that it is waterproof. No! Engineered Hardwood is not waterproof. However, it can handle moisture and humidity much more efficiently.
Vinyl Flooring:
It is like a super impersonator that can mimic almost anything. It is a synthetic product and is durable. LVP is its latest form that stands for Luxury Vinyl Plank. They either come in rolls and also in form of tiles. Know that it is prone to damage from sharp and heavy materials.
Carpets:
We all know how beautiful they look and feel. They speak of class and luxury. But there are its advantages and disadvantages. Here are the advantages:
They feel cozy beneath feet. Chances of injuries get lower, especially when you have kids at home.
They keep the room warm. This is why they are often used in colder areas.
They come in rolls and tile patterns too.
Here are the disadvantages:
Are tough to clean because of their texture. Vacuum Cleaner is used to clean these carpets.
Are prone to spillage and stains.
Consult building architects near you to get more detailed knowledge about different carpet types.
Rubber Flooring:
This is used in the areas that are more prone to getting wet. We do see them most commonly in gyms where floors easily get damaged due to weight. This is why they use rubber flooring in those areas to endure the heavy fall of weights. It helps in noise control too.
Building Architects and Flooring!
If you have a home for which you are planning an architect and interior designer, search for building architects near me and you might get one. Choose wisely. Most good architects do usually guide the client through every stage and you might not face any problem in choosing things. Click here for more information about architecture and interior designing.
If you don't have any plans then you first need to look at your needs and align them with your budget. Avoid wood, carpet, and marbles in areas prone to spillage.