A pergola is a great addition to your outdoor space. And if you are thinking of having one soon, then it is important that you know the different materials that you will need and will most probably be asked by your builder. There are two types of the pergola, the attached and freestanding. So depending on your preference, the materials will most likely be the same and will just differ in the number of items that you will need.
The traditional pergola designs ask for wood or stone. But in these modern times, there are now different types of materials that you can consider. You can pick from steel, vinyl, fiberglass, cellular PVC, or aluminum. These materials are the most popular these days to give you a variety in appearance and quality.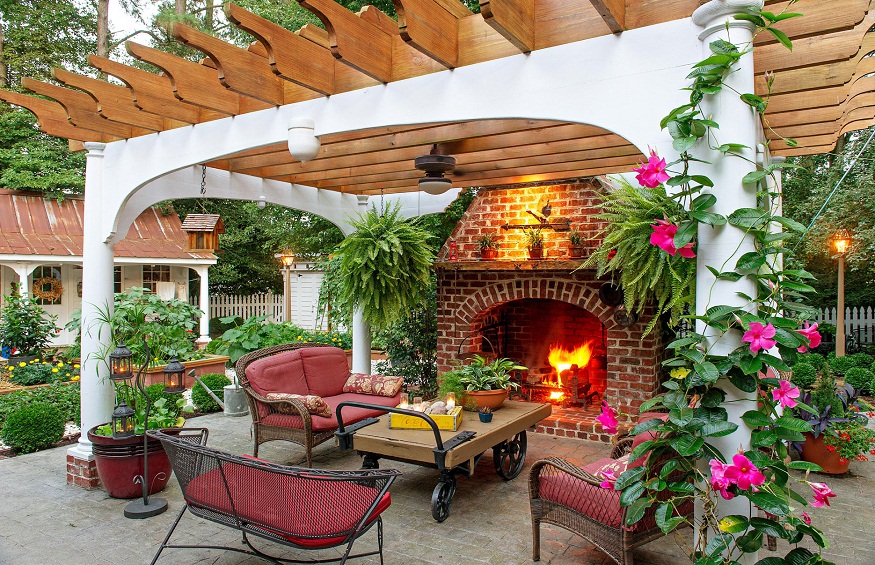 Wood Pergola
The most common type of pergola is made of wood like cedar or redward. This creates a natural look for your outdoor space. Wood is a versatile material because it can be stained or painted in order to complement different styles. But you have to remember that it can weather and fade so regular maintenance is important. To extend the life of your wood, you need to seal it and repaint when necessary to protect it from the elements as well as from termites or rotting.
PVC Pergola
Another option that you can consider is PVC pergolas. Cellular PVC is a material used as a good alternative to wood. But unlike the latter, it can resist moisture penetration. Thus, it will not rot or split. This is nearly impermeable to elements and terminate cannot penetrate it either.
Aluminum Pergola
This is one of the most preferred types of pergolas these days. They are highly customizable and perfect for commercial and residential applications. Aluminum is lighter than wood so it will require little to no time in maintaining. It is also a non-porous material which allows the structure to stand through the elements without the fear of rotting. Also, its surface is protected by aluminum oxide which protects it from rust.
Steel and Metal Pergola
Steel is another option for a durable and versatile pergola. It is more than twice as heavy as aluminum. So this is perfect to ensure that the structure is safe and secure. This is also the perfect material to be used for larger pergolas that can cover greater areas. To protect the steel from rust, it should be finished with a powder coat or liquid paint. And it should be maintained as often as needed.
Fiberglass Pergola
If you are looking for materials that are exceptionally strong but not as heavy as steel or metal, then you should consider fiberglass pergolas. This is a suitable booth for traditional and modern designs for residential and commercial structures. Fiberglass is so versatile that it can be customized to blend with the landscape or existing design, still manage to stand out as an architectural feature of your outside space.
Now that you know your different options, it is time to choose which is perfect for you. Of course, your choice will depend on your preference and style. You should consider different factors like your availability to maintain it. Simply because some materials can easily rot or broken easily.