If your roof is too green, and that was not its primary color, it means that you should do something to eradicate moss from it. Generally, your roofing system should be able to remove leaves, but the mossy foliage is something that stays, especially after harsh weather conditions.
Generally, moss tends to grow in areas that are unaffected by sun, and it can grow fast in case you have north-facing roofs or tree shades. Spreading can lead to roof surface issues, which could affect both tiles and shingles and create problems that you will not be able to fix.
You should check here to learn how to remove moss with ease.
If you neglect this particular problem, the moisture and rainwater will not be able to get away from the roof, which will lead to rot, decay, mold infestation, and leakage, among other things.
It is essential to understand that before you decide to clean your roof, you should think about removing the dead layers of moss and kill the plants on it. At the same time, you can implement defensive measures to prevent future build-ups.
According to experts, you should save the removal for a cloudy day: because you should leave the cleaning products at least half an hour. During a sunny day, the products will evaporate faster than they should, which is why you should follow this particular advice.
At the same time, you will be able to remove it physically by using a stiff brush and water, chemically, or you can combine both of them. We recommend you to find the least-toxic moss killer because harsh chemicals could cause additional problems to your roof's structure.
Best Treatments You Can Choose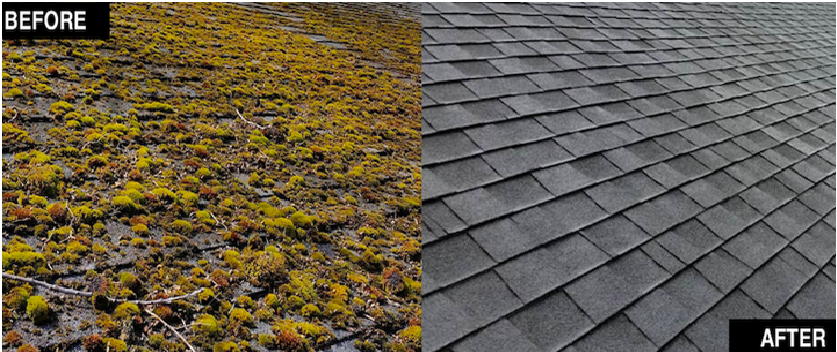 You can find a wide array of cleaners available on the market that you should mix and apply based on the instruction manual you get within the package. On the other hand, you can also find an already pre-mixed solution that you can spray by using a hose.
In both cases, you should follow the recommendations that you found at the instruction manual so that you can protect roof shingles, tiles, and plans from additional damage.
At the same time, you can easily make your moss removal, which tends to be less toxic than the ones you can purchase on the market. You can also enter Portland roof maintenance official website to learn everything about it.
Generally, you will need chlorine bleach that could remove mildew, fungi, and mosses, but it can affect plants, which is why you should dilute it beforehand.
You should mix one-quarter of bleach with one gallon of water and add a quarter of heavy-duty cleaner. Another important consideration is that you should avoid ammonia-based cleaners because they can become highly toxic in combination with bleach.
Read more: Reasons Why Expert Office Cleaning Company is Necessary?
On the other hand, if you wish to create a planet-friendly solution, you should combine oxygen bleach with a gallon of water. At the same time, we recommend you to place it into a pump sprayer so that you can be safer while standing on a ladder and spraying.
As soon as you create a moss-removing solution, it is essential to start with the overall process.
Cleansing Roof Tiles
For this particular project, you will need the following equipment:
Work clothes
Safety rope
Rubber gloves
Safety glasses
Garden hose with a spray nozzle
Ladder
Moss remover
Scrub brush
Backpack garden pump sprayer
Power washer
It does not matter which method you decide to choose, because you will get dirty throughout the process, which is why you need to find something old to dress. It is vital to wear safety glasses, slip-resistant shoes, a cap, and rubber gloves.
Read more: Why it is important to make use of carpet cleaning service?
It would help if you covered nearby plants with plastic to prevent affecting them with the solution. As soon as you place the ladders securely, you should take the hose and climb on them.
Watch this video: https://www.youtube.com/watch?v=SCJ_PCg4RqA to learn about the overall cleansing process.
The process starts by spraying all sections of your roof with water. That is why you should always ensure to work from the top of it and down because that way, every single part of the roof will be sprayed.
Before adding a moss-remover, you should use a scrub brush to pluck and scrape moss from the tiles and shingles. Start by a small section, which will provide you an ability to control scrubbing motions and brush as well.