Have you ever had dreams of becoming a landlord? Getting to kick back and watch profit soar in from property you already own? Well, not everyone's got the property size to back those dreams up.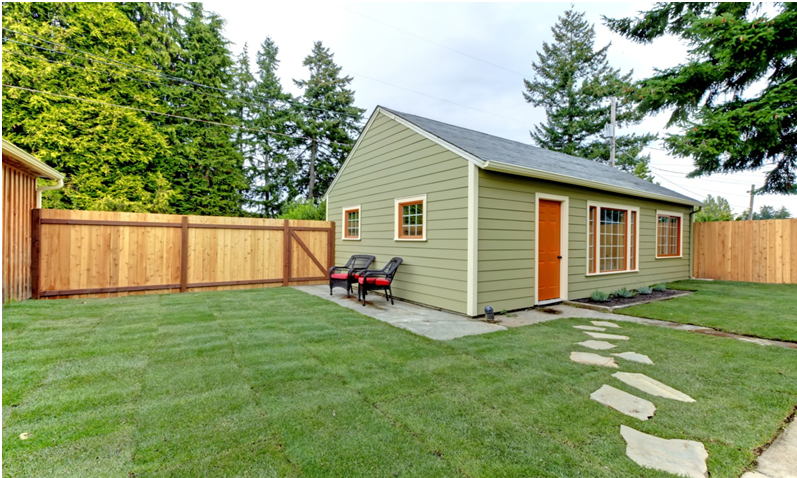 However, there is another option at your fingertips: ADU's (or accessory dwelling units). But what are these ADU's, and what can they do for you? What's more, what are the legal requirements involving building and owning an ADU?
Well, you're in luck. We're here to talk about the top 7 benefits of building an ADU on your property!
But enough preamble, right? Let's get right into the thick of it!
Building an ADU Can Pay for Itself
One of the primary reasons to build an ADU is that you can loan it out to tenants and collect rent as a landlord does. In time, you will not only recoup the cost of building the ADU in the first place but make a spectacular profit off of it! If you're fine with living small, you can even swap over to living in your ADU and renting out your "primary" house!
ADUs also offer a lot of flexibility with how you can add them to your property, making them fit for almost any property size. You can build them as separate installations or add them on as parts of your pre-existing house.
What's more, the state of California itself will support you in building these. A spade of recent California ADU law changes 2020 removed many of the limitations on prospective ADU builders, like widening the size limit and removing some of the fees associated with the process. One such law even blocked the ability of homeowner's associations to prohibit ADU's getting built in their neighborhood.
That said, it's important to remember that there are strict guidelines as to features ADU's need to get legally recognized for benefits. Make sure you've brushed up on these before you start to avoid any nasty surprises. Looking up the rent laws in your state will also prove prudent here.
Something else you'll need to plan for are changes in property taxes. ADU's count as extensions to your property, and as such you'll have to pay more every year in property taxes than you did before. Getting an estimate on your rate before you start building will help you make an informed decision about the size and location of your ADU.
Space to Get Creative
Another benefit to building an ADU on your property is that you've now got a ready-made place to practice all your artistic whims. Need a place to practice guitar where the rest of your family won't yell at you to keep it down? Use your ADU!
Want someplace to work on and store your paintings without risking splashing paint all around your house? The ADU is there to help!
If you're not much of a creative person, you could also use the ADU as a storage facility for any stuff that won't fit around your house or a fitness center for your workout regimen. Memorabilia boxes, spare car parts…the possibilities are endless. You could even stash all your entertainment devices there to make it into the prime hangout spot on your property!
Supporting Your College Graduate
The pandemic and overall inflation have made the economy a scary place for new college grads: a recent study found that around 81% of graduates were in some form of financial trouble during the past year. If the college grad in your family faces similar challenges, consider letting them use the ADU like a rented apartment.
This way, you've given them a place to call their own without having to tangle with the wild world of shady landlords and broken apartments. Plus, you can charge them some sort of rent to teach them about financial responsibility without breaking their bank.
Guest Housing
Have you got relatives coming over to your house every day? For those with a large family, using your ADU like a guest room of sorts (but with extras) is the perfect way to give everyone some breathing room and allow your guests to visit you often without needing to cough up the cash to stay in a hotel or cram onto a sofa.
Create a Workplace
Going through the whole process of finding an office space to run your small business out of is exhausting, right? Well, if you play your cards right, you can convey your ADU into an efficient office space for either at-home work or small businesses.
This lets you control the design of the office as well, and can help promote productivity. What's more, you can write off certain parts of the ADU as business expenses when you do your income taxes!
Extra Living Space
If you find it difficult to put an elderly member of your family into a rest home or ensure they are getting the proper care, use your ADU as a living solution for them where you can help keep an eye on them. Seniors who own houses with ADU's can also transfer over to the smaller ADU's and rent out the old house if they no longer need the vast space provided to them in the other house.
On top of that, you can even add kitchens or living rooms to the ADU's to make them even more desirable and practical than a hotel room!
Going Humanitarian
If you want to help out low-income families in your state, creating an ADU to use as housing for them is a great way to do so. Not only will that help relieve the disastrous symptoms of the recent housing crisis, but the state will also give you extra benefits for using your ADU to house those with less money.
ADU's Are the Future
And there you have it! Now that you know the top 7 benefits of building an ADU, you're ready to get started on constructing one for yourself today! And for more advice on home improvement and renovating your house to make it shine, feel free to check out the other articles on our blog!